MARCH 18, 2015
Discouragement is a sneaky beast.
It creeps up, taps you on the shoulder, then latches on tight. Discouragement is like quicksand, one second you're walking on firm ground, the next, you're steadily getting dragged down . . . only moments away from suffocation.
Right now, I'll admit, I'm writing with Discouragement clinging to my back. He's tough to shake. In fact, too tough.
Those of you who know me well, know that my life is just about as close to a bed of roses as it's gonna get.
A friend (a very honest friend) once told me, "Shut up. Your life is perfect, you have no reason to complain."
She may have been a little extreme with the "your life is perfect" part. However, just because God has abundantly blessed does not mean we are free from the attacks of the devil! He knows just what lies to whisper, just what weakness to pin-point, and just what doubt to dwell on.
You know what? I'm grateful!
Without attacks from the enemy, we would never have a reason to desperately cling to Jesus. If life were truly perfect, we wouldn't have the need for a Savior!
I am desperately in need of a Savior every day. Last night I went to bed joyful and hopeful, but this morning I opened my eyes with a burden of overwhelm, doubt, and fear, weighing me down.
Has this happened to you? Does the devil sideswipe you out of the blue and go in for the kill?
I can't shake discouragement. Trust me, I have tried all morning. Chances are, you can't either.
But Jesus can, and he WILL!!!
Renew Our Minds
It's a mind game. The only way satan can hang on is if we dwell on the thoughts he WANTS us to dwell on. 
"I am winning, you see how the world is failing."
"Actually Mr. serpent, you know you're losing. Jesus says "in the world ye shall have tribulation: but be of good cheer; I have overcome the world.'" (John 16:33)
"You should be anxious about the future. Life is so uncertain."
"Jesus tells me that 'in me ye might have peace. . .' (John 16:33) a.k.a. I have complete peace in the presence of my Savior.
"You're too weak to handle this." 
"That's the point, brilliant. '[Jesus] said unto me, My grace is sufficient for thee: for my strength is made perfect in weakness. Most gladly therefore will I rather glory in my infirmities, that the power of Christ may rest upon me.' (2nd Corinth. 12:9)
You hear that, devil? I GLORY in my WEAKNESS! I know you aren't scared of me, but you'd better run because the POWER of CHRIST rests upon ME! If that isn't enough, 'in all these things we are more than conquerors through him that loved us.'" (Romans 8:37)
"You have WAY too much to do and you're dropping the ball. Sheesh, girl."
"I know that, Captain Obvious. That's why I am 'casting all your care upon him; for he careth for [me].'" (1st Peter 5:7)
(Forgive the name-calling. I have so little respect for the enemy it's ridiculous.)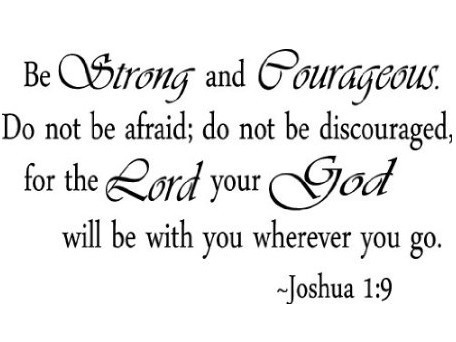 Fight Back
The devil is a coward. He want's us to whimper and snivel and be blinded to the truth. That's why he catches us off guard and attacks with a torrent of arrows.
However, it is a promised, proven, truth, that if we resist the devil, he will flee. Not, he may flee, not, he should flee, but he will flee! 100% of the time.
"Submit yourselves therefore to God. Resist the devil, and he will flee from you." (James 4:7)
Jesus showed us one of the best ways to resist the devil: quote scripture. We don't have to fight, the battle is the Lord's, we just say his words and the power of those words will fight for us. Mr. All-bark-no-bite will tuck tail and run.
 "If God [be] for us, who [can be] against us?" (Romans 8:31)
Hope
Where are we putting our hope? In ourselves? In people? In circumstances? In results?
Those things are bound to fail.
"Be of good courage, and he shall strengthen your heart, all ye that hope in the LORD." (Psalms 31:24)
"Now the God of hope fill you with all joy and peace in believing, that ye may abound in hope, through the power of the Holy Ghost." (Romans 15:13)
Thank Him
It is hard to dwell on negative thoughts when we dwell on what Jesus has done.
Lord,
Thank you for giving me all your power and strength to do well in school. Thank you that you will never leave me nor forsake me. I don't know why I'm feeling stressed and anxious about school and work right now, but I thank you that with you I am more than a conqueror. 
Thank you for allowing uncertainty and pain in my life because you are drawing me closer to you. I thank you that regardless of what my future holds you are the same yesterday, today, and forever. I can always rely on you, and I can always trust you. 
I give you my burdens of discouragement and doubt. . . thank you for caring them for me thousands of years ago on the cross. Thank you that the devil has no strength when I do not allow him a stronghold in my life. Thank you for opening up my eyes to see that you have already done the work, and I am completely free from this negativity in you.
Hallelujah!
Amen
Thank you for joining me on my journey this morning to renew my mind, fight back, hope, and thank Jesus. When I started this post, I was sinking in quicksand. I still don't have answers to my questions or an understanding of my circumstances. However, I can truly say Jesus has lifted me out of the clay and set me on a rock. He is so faithful to change my perspective and comfort my heart when I run to his arms.
He has exchanged my discouragement for hope!
I encourage you to run to his arms, soak up his truths, and sit at the feet of Jesus. I read this post a couple times, quoting the verses out loud and praying for deliverance.
God created us to be a joyful people. A free people. People full of hope. That's why, we are a peculiar people. The world can only sink steadily into depression, anxiousness, and separation from God. But WE are different. WE can turn to a loving creator that wants what's best for us, and has given us all the power to be more than conquerors!
We serve an awesome God!!!